It was to be the last beautiful weekend before winter set in.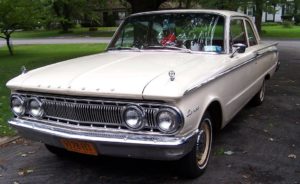 Sixty degree late November days were are unheard of in western NY. A few days before, I checked with my father to make sure he and his 2004 Chevy Avalanche were available. With him and my mother signed up for the trip I went to our local U-Haul to book an auto transport. We were to head down to Binghamton, NY to pick up a 1962 Mercury Comet. My mother-in-law had recently offered me the car after my father-in-law had passed away. He had worked on restoring "Ruby" (as he named her) over the last 10 year, never getting it back on the road. The car was acquired from a friend who had stored it since the mid 70's. I remembered it had "low" mileage, but I was in for a surprise.
Now, I walk into the U-Haul store
and talk to the person at the counter, hand him my Visa card and book the hauler for 8:30 AM Saturday. I am then told I would be getting a phone call from the central office to "set" the pickup time, even though I just told him. After waiting 3 hours at home for the call, I called the 800 number myself. They then transferred me to the local store I was at 3 hours earlier so I could "set" the pickup time. I tell them the time (again) and hang up. Not 30 minutes later I get a call from the same local store (different guy) to "set" the pickup time. I was sure there was either going to be no transport for me Saturday morning or there would be 3 of them.
Early Saturday morning..
my parents pull into my driveway in a fire-engine red Avalanche. Apparently he had traded his older green one in a few days earlier for a brand new one. He had less than 200 miles on it and informed me that we would be varying our speed the whole trip to break-in the engine and that we would not be going over 55 MPH. Well, I was fine with that since we'd be towing my car half the trip. We pick up the transport and with a little disappointment, there was only one waiting for us..
The trip down was uneventful,
except at times I felt we were moving backwards. My father was driving varying the speed the whole way and keeping it under 55 MPH. But as you know, on a highway with a 65 MPH speed limit that seems like crawling. Mentioning this to my father did not help. The 3 hour trip gave us plenty of time to catch up.
W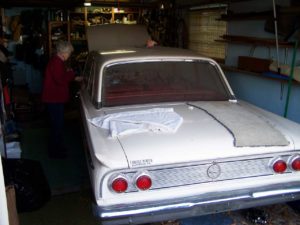 e arrived right at noon and my mother-in-law was waiting for us. She had gathered several magazines and catalogs and placed them in the car. My father-in-law had kept all his receipts and had several old car parts catalogs, so there was plenty reference material to get me started with this project.
Looking under the hood,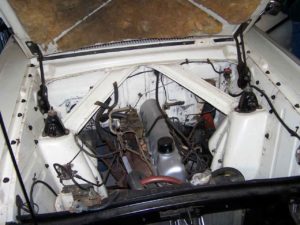 I was surprised at how sparse the engine compartment looked compared to today's cars. I could actually identify all of the major parts, something I would struggle with on newer cars. There was no battery present but we found it sitting on the small bench at the back of the garage. My father-in-law had periodically started the engine over the years so we were pretty confident that we could get her fired up.
A few other parts were on the bench including the air cleaner and filter. Having forgotten my gas can at home (I must have been overwhelmed by the fire engine red truck that pulled in my driveway) we had to borrow some from my brother-in-law who lived next door.
We installed the battery, checked the oil, added a little gas to the carburetor and gave it a shot. Seems the battery needed a boost and it just so happened that my father had brought his portable jump-starter (standard issue for "Fire Vehicles"?). It took several tries but it eventually fired up. We let it idle a little, while we positioned the transporter. I took this opportunity to look at the mileage on the odometer. I had to ask my father to come take a look as I did not believe what I saw. 6,950.9 miles!!! Boy was I stoked. Since we knew the history of the car, 35 years of storage and before that just trips to the bank and store, it was the original mileage and the odometer had not rolled over.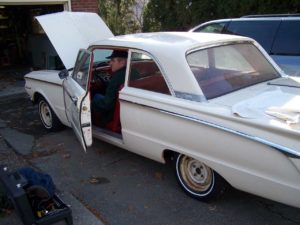 It didn't like moving in reverse much as I imagine it has not been moved a lot over the years, but we managed to back it out of the garage. They live on a hill so the truck and transport were pointed down the hill. This, I figured, gave us an advantage if we couldn't get (or keep) the car running. We'd only have to push the car out into the street and let gravity do the rest rolling it down onto the trailer.
Well, the car ran fine and I was able to back it out into the street. I ended up having to maneuver it back and forth a few times to line it up with the trailer. Without power steering, I didn't crank the wheel far enough on the first try.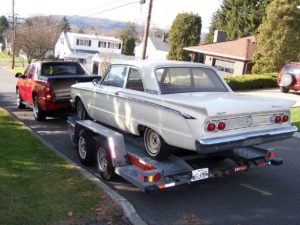 We loaded it up and since I had watched the online U-Haul video instructions for how to secure your vehicle, I went right to work strapping her down. While I was underneath the rear, attaching the safety chains, I noticed brand new shocks and new brake lines. The rear end was freshly painted as well as the springs. This was nice to see and meant there were fewer things I would have to attend to.
The car was strapped and chained down and ready to go. The trip home had one unexpected event. I live about 175 miles north of where we picked up the car, so we had quite a ways yet to travel that afternoon.

On the return trip, a NY State trooper pulled us over. We figured we had a light out on the trailer (even though we had checked them all out), because we sure weren't going over the speed limit. Or, maybe we were
going too slow. It turns out that the trooper had a '63 Comet at home (a convertible) and he just had to pull us over because "you don't see that many Comets being hauled around now-a-days". After the initial shock you have when you see the flashing lights in the rear view mirror, we all had a laugh and now a story to tell as the trip was mostly uneventful. Wish I snapped his picture, but I didn't want to push things.